UW School of Nursing
November 29, 2022
Ambulatory Care Nursing Conference 2023 | Day 2
Current Status

Not Enrolled
Quick Links
Conference Description
Nurses practicing in Ambulatory Care Specialty have diverse roles, serve unique groups of patients, and require specific clinical and management skills. This conference is an educational forum for those who practice in a wide variety of settings, including large and small primary and specialty clinics, physician offices, home health, long-term care, public health, community health, occupational health, school health, college health, military health, case management, and other outpatient settings.
General and 5 sets of concurrent sessions allow registrants to design a conference that meets their needs. The goals is to strengthen nursing practice, promote innovation and create seamless systems for patients and communities. Teaching methods include lectures, discussions, case studies, poster sessions, and collegial interchange.
Day 2 Morning speaker |
Kevonya Eliza, MA, BS, RN
Director of Justice Equity Diversity & Inclusion at National Healthcare for the Homeless Council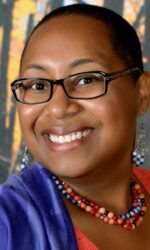 Kevonya is a Registered Nurse and an Integrative Healing Facilitator. As a facilitator, my work focuses on engaging individuals within the classroom, community, and organizational setting to see racial healing as integral to public health and personal well-being. As an RN, she works at Neighborcare Health as a community health nurse providing RN led primary care within a permanent supportive housing setting in the Seattle area.
Objectives for Learning Outcomes
Learners will be able to:
Appraise relevant clinical guidelines and evidence-based practice within their practice setting.

Explore strategies for providing primary, community-based, and preventative services to promote value-based care




Evaluate work environments and cultures that promote patient and health professional well-being and foster diversity, equity, and inclusion.
Target Audience
Registered nurses, licensed practical nurses, nurse leaders, clinical nurse specialists, medical assistants, nurse practitioners, and other interested healthcare professionals working in the Ambulatory Care Setting.
Program Schedule
THURSDAY, APRIL 27, 2023 Program Schedule
Time
Session
Topic
Speaker
7:00 - 8:00

7:15- 8:15

EARLY BIRD

Registration and breakfast

Why Mindfulness Matters

Dani Dutro MC, NCC, LMHC

8:15-8:30
Welcome and Overview
Planning Committee
8:30 –9:00
HUB Facilitator Recognition
Planning Committee
9:00-10:00
Keynote
A Journey of Being—What It Means to Embody the Role of a Justice, Equity, Diversity, and
Inclusion Champion
Kevonya Elzia MA, BS, RN
| | |
| --- | --- |
|  10:00 – 10:20 | Break & Exhibitors |
Concurrent Sessions E
Time 
Session
Topic 
Speaker 
10:20 – 11:20
E1
The Importance of Seizure First Aid
Olivia Ackerman, BSN, RN
E2
Complex Medical Conditions: Coordinating Pediatric Transitions of Care
Serena Stamper BSN, RN and Natalie Conner MS, ARNP-CNS, PHCNS-BC, AMB-BC
E3
 Telehealth
Victoria Zhu MSN, RN & Christine Ogden RN
E4
The Power of Organizational Resilience
Rasheda Hatchet, RN, MSN
E5
Nurse-Led Pop-Up Clinics Impact Health Equity
Jennifer Hernandez, RN, BSN
| | |
| --- | --- |
|  11:20 – 12:20 | Lunch & Exhibitors, Posters |
| 12:20 – 12:50 | Networking session: Interest group and Mentorship meeting |
Concurrent Sessions F
Time 
Session 
Topic 
Speaker 
12:50 – 1:50
F1
Cultural Humility
Kawai Kaneali'I MSN, RN
F2
Neuro-Rehabilitation: Not a Lost Art!
Anisa Young MS, MN, ARNP-CNS, AGCNS-BC, SCRN, CNRN, CRRN
F3
Nursing Shared Governance -Leveraging Nursing Voice in Ambulatory Care
Victoria Zhu MSN, RN
F4
Latent Tuberculosis Update
Mary Tuncil, MSN, RN
F5
Lactation as a Specialy Service
Rebecca Swanson, RN & Javiera Lakkis, BSN, RN, IBCLC
| | |
| --- | --- |
|  1:50 – 2:10 | Break & Exhibitors |
Concurrent Sessions G 
Time
Session
Topic
Speaker
2:10 - 3:10
G1
Beyond Teach Back
Roland Upenieks, RN & Hannah Nguyen, BSN, RN
G2
Clinical Care and Resources for Patients with Parkinson's Disease
Anisa Young MS, MN, ARNP-CNS, AGCNS-BC, SCRN, CNRN, CRRN
G3
Transitioning to Text-Based Nursing Triage
Jonathan Halldorson, BSN, BPH, RN, CDCES
G4
Nurse Navigation at Fred Hutchison Cancer Center
Ann Gfeller, RN
G5
Current Updates in HIV Care and Prevention
Janna Cuneo FNP-BC, AAHIVS & Kate Featherston RN, BC, BSN, MPH
| | |
| --- | --- |
|  3:10 – 3:30 | Break & Exhibitors |
Concurrent Sessions H
Time
Session
Topic
Speaker
3:30- 4:30
H1
Provider Secondary Trauma, Burnout & Wellness (canceled)
Josh Cutler MSW, LICSW (canceled) TBD
H2
Harnessing the power of the human-animal bond to improve the health and well-being of those living unhoused
Jessica Lowery BSN, RN-BC & Catherine Wheeler MD, FACP
H3
Nuts and Bolts of a Nurse-Driven Infusion Suite
Julie Un, RN, BSN, CMSRN & Bren Hammond, RN, BSN, CRN
H4
When Disorder is the Norm: Helping Without Harming
Courtney Saylors, MS, RD, CD, CEDS-S LMHC
H5
Care of Incarcerated Patient
Susan Densmore, MHA, BSN, RN
| | |
| --- | --- |
| 4:30- 5:15 | Interest group and mentorship Meeting |
| 5:15 | Closing & Evaluations |
The program schedule is subject to unexpected change. Networking hours included in total contact hours
Discount Rates
Discount rates below are applicable for 1-day registrations. Please email cne@uw.edu for the coupon code.
Students = $175
Retirees = $ 262.50
UW SoN Faculty & Staff = $280
Hotels and Activities
For those in need of accommodations and things to do in the area: Hotels and surroundings
Seattle has a very active calendar of theater, music, festival, and sporting events. Plan ahead and make the most of your time during your conference stay. You can find area attractions and a list of things to do on these websites:
visitseattle.org | downtownseattle.com | experiencewa.com
Refund Policy
If you register but cannot attend, you must submit a written request to UWCNE by email at cne@uw.edu.
30-days before the event = $25 admin fee

48h day before the event = $ 50 cancellation fee

No show = No refund