UW School of Nursing
November 18, 2022
Diabetes Update 2023
Current Status

Not Enrolled

Get Started
FORMAT: In-Person Conference
DATE: Tuesday | March 7, 2023
LOCATION & PARKING: UW Center for Urban Horticulture
Conference Description
The purpose of the conference is to provide clarity on diabetes management guidelines and an update on new therapies, medications, and technologies involved in care for patients across the lifespan and in all care settings.  
Learning Objectives
Evaluating various GCM devices and their therapeutic uses in diabetes management
Management of patients with diabetes mellitus in surgical patients
The benefits of the Look AHEAD (Action for Health in Diabetes) program for emerging adults
The prevention of diabetic foot ulcers with knowledge of guidelines to prevent ulcers and good practice
New drug treatment options for diabetes
Embracing cultural food while creating diabetes meal with your clients
Previous Testimonies
"

This was a great conference. So good to know there is community support for young people with diabetes."

 

"Appreciated the breadth of scope of the conference"

 

"This is an excellent conference. I learned so much about CGMs to the impact that diabetes has in our community. I am inspired by all on the panel. What a difference they make in our community."

 
Target Audience
Nurses, nurse practitioners, nurse educators, certified diabetes educators, dietitians, nutritionists, pharmacists, social workers, and other healthcare professionals in all settings
Program Schedule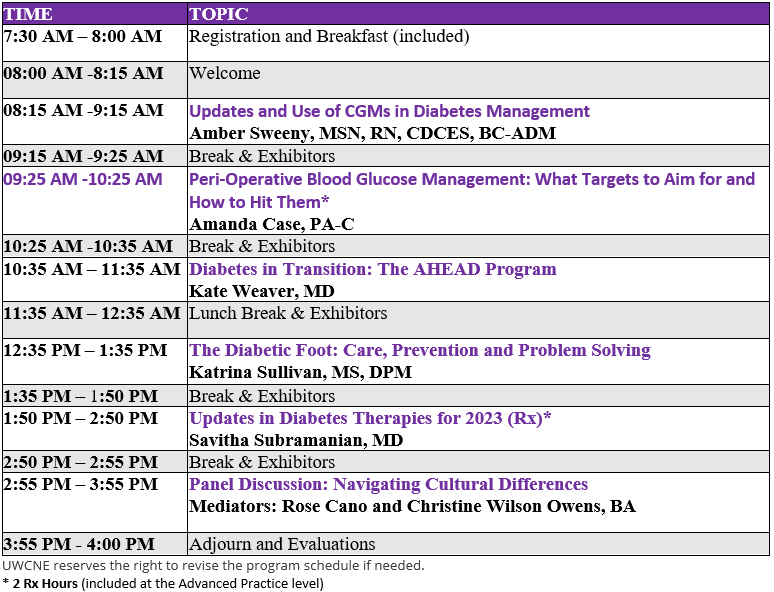 Hotels
There are several Hotels in the UW University District close to the venue: Silver Cloud Hotel, Graduate Hotel, and Residence Inn. There are many other options— look for lodging near UW Horticulture Center, Seattle to be in the area closest to the venue.