UW School of Nursing
December 9, 2022
Exhibit Opportunity | Ambulatory Care Nursing Conference 2023
Current Status

Not Enrolled

Get Started
The Annual Ambulatory Care Nursing Conference will return to an in-person format. We bring nurses together to share their expertise, learn from each other, and reconnect.

The University of Washington School of Nursing welcomes sponsors and exhibitors who support our mission and offer products and services that advance the cause of nursing education to join us. This is an ideal opportunity to connect with key influencers, experts, and leaders in nursing and nursing education.
RAISE your organization's profile
SHOWCASE current products and services
LAUNCH new products and services
ESTABLISH your organization as a strong supporter of nursing education
DATES: Wednesday- Thursday | April 26-27, 2023 | 8:00 am-5:00 pm
LOCATION: Lynnwood Convention Center
EXHIBIT TABLE: $1100 for-profit / $500 non-profit. See below for other sponsorship opportunities.
About the event
Ambulatory Care is a premier Ambulatory Care Conference that happens every year in Lynnwood, WA. This year, we bring together the very best Ambulatory Nurse Experts in the practice. Join us for enriching practical sessions on transforming leadership and innovation of care in ambulatory practice.
As a comprehensive two-day conference, AMBU 2023 provides an opportunity to effectively introduce new offerings, increase brand awareness, engage with customers and prospects, and connect your company, school, or program with our attendees.
Lynnwood Convention Center
The Lynnwood Convention Center is a premier event venue catering from meetings and conventions to galas and fundraisers, as well as weddings and other social functions.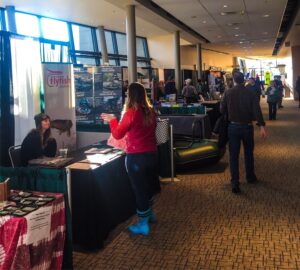 Who Attends
Registered nurses, licensed practical nurses, nurse leaders, clinical nurse specialists, medical assistants, nurse practitioners, and other interested healthcare professionals working in the Ambulatory Care Setting.  
Expected Attendance
200 nurse practitioners, nurse educators & physician assistants.
By partnering with CNE for this annual event, you will connect to our extensive network of Nursing professionals who are eager to learn more about your products, services, and programs. More than 80% of our attendees are Nurse Practitioners
Educational Tracks 
Transformational Leadership

 

Organizational Vision

 

Professional Practice

 

Innovations in Care

 

Care of Self and the Community / Value-Based Care

 
Sponsorship Opportunities
Exhibitors Space
As an exhibitor, you will get the visibility and time to connect with the attendees and share knowledge and products.
8+ Hours/day of Exhibitors' time during the Conference in the main hall between the conference rooms, lunch room, facilities, and coffee breaks.
1 Exhibit table for both days (or equivalent space): $1100 / $500 non-profit
2 Exhibit tables for both days (or equivalent space): $1700
(tablecloth provided)
As an exhibitor you will be automatically added to our online exhibitor's list that is linked to the online course material and handouts.
These are the items you can provide:
Logo
Max 50-word description
Contact Information
Website link (deadline to provide material is 14 days prior to the event date)
Advertising Opportunities
Digital Ad
Website banner, horizontal: $ 450  *
The banner will be featured on the Ambulatory Care 2023 registration & information webpage.
*The creative design is not included. (PNG horizontal 300x100px).
The deadline for registering is March 10; the deadline for the artwork is April 1st.
Print Ad
Halve page on the back Cover: $350*
Have your company logo on the first page of the PROGRAM SCHEDULE that each attendee will receive once they enter the conference.
The deadline for registering is March 17, 2023, deadline for the artwork is April 1st, 2023.
*The creative design is not included
Registration and Cancellation
A booth and/or sponsorship reservation is not complete unless full payment has been received by the stated deadline. Credit card payments are due at the time of reservation. Check payments are due within 20 business days of invoice receipt. All payments must be received by April 25, 2023. If payment is not received by the deadline, the exhibitor/sponsor may forfeit their reservation. Written cancellations of booth exhibitors will be accepted through April 1st, 2023, and refunds granted minus a $100 cancellation fee. Sponsorship reservations are not eligible for a refund at any time.
The Continuing Nursing Education (CNE) mission is to provide innovative learning experiences for the nursing profession. Through our programming, we support the larger mission and values of the University of Washington School of Nursing.
Contact pkelle@uw.edu if you need more information.