UW School of Nursing
November 17, 2022
Midwifery and Sexual Reproductive Health Update 2023
Current Status

Not Enrolled

Get Started
It has been two years since our last in-person gathering and we are so honored and excited to come together with you for this occasion!

Format: In-Person Conference
Date: Wednesday | February 8, 2023
CE Hours: 8.00 (with 3 Pharma Hours at the AP level included)
Location and Parking: UW Center for Urban Horticulture

Conference Description
This year's program will focus on clinical care, reproductive justice, and education within midwifery and sexual and reproductive health. Sexual/reproductive health, midwifery, pregnancy, and birthing care touch many different people in many different stages of life. This program will present key health updates while centering around antiracism, diversity, equity, and inclusion. Teaching methods include video, PDF handouts, and case analysis. 
Target Audience
For Midwives, Advanced Nurse Practitioners, Registered Nurses, Doulas, Nursing Students, and other Healthcare Professionals who work in the community, in hospitals, ambulatory settings, urgent care clinics, and other healthcare settings that address sexual/reproductive health, midwifery, pregnancy, and birthing care.
*Nursing Students: please email cne@uw.edu for a coupon code to attend the conference for only $175, or 50% off!
Objectives for Learning Outcomes
Implement evidence-based practice, pharmacologic, and clinical guideline updates within their setting.

Evaluate work culture and clinical practice to foster diversity, equity, and inclusion.

 

Explore the key causes of maternal morbidity and mortality and discuss strategies to mitigate disparities in clinical practice.

 
Program Schedule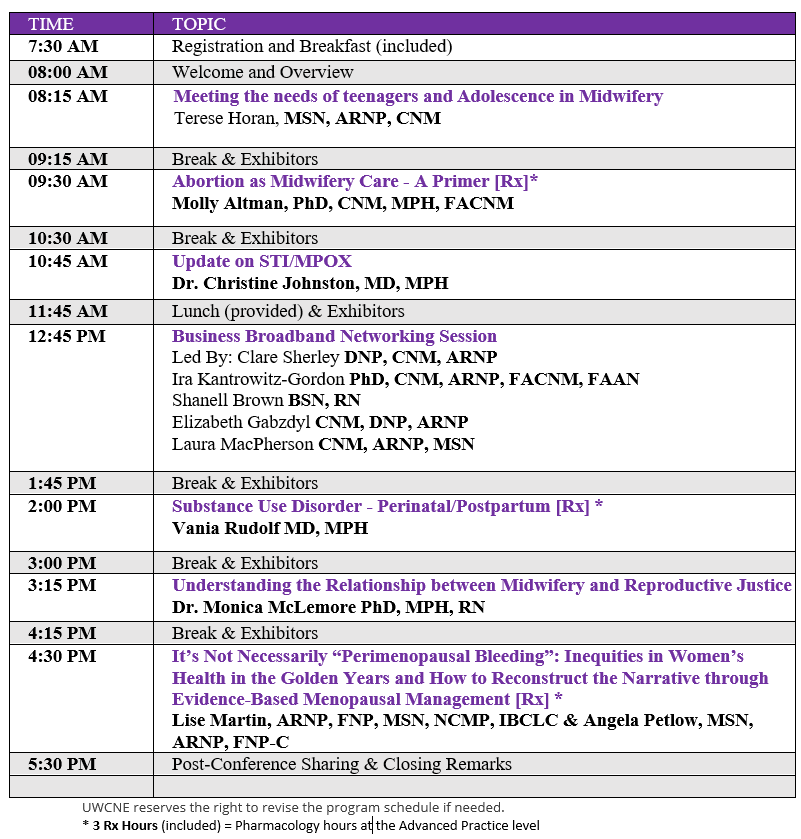 Hotels
There are several Hotels in the UW University District close to the venue: Silver Cloud Hotel, Graduate Hotel, and Residence Inn. There are many other options— look for lodging near UW Horticulture Center, Seattle to be in the area closest to the venue.