UW School of Nursing
April 26, 2022
The Challenge of Pain 2022: Chronic Pain Workshop
Current Status

Not Enrolled

Get Started
FORMAT: Conference Webinar
DATE: June 16 & June 17, 2022 | 8:00 am – 5:00 pm
CONTACT HOURS: 7.25 (4.25 pharmacology hours at the advanced practice level)
(CME Category: 2 hours)
LOCATION: Online
UW STUDENTS: Contact cne@uw.edu or 206.543.1047 for a 50% discount
CONFERENCE DESCRIPTION
Chronic pain causes extensive suffering, disability, and the expenditure of scarce healthcare resources. This conference focuses on the challenge of pain management for healthcare professionals across the healthcare continuum. Pain specialists present evidence-based strategies for assessing and managing pain in all care settings. Teaching methods include lecture, discussion, case studies, and inter-professional dialogue.
The Chronic Opioid Workshop is held on Friday, June 17, 2022
The ASAM (TOUD & REMS) courses are held on Thursday, June 16, 2022. (this is a separate registration, scroll down for more information).
TARGET AUDIENCE
For healthcare professionals including staff nurses, clinical nurse leaders, clinical nurse specialists, nurse practitioners, nurse educators, primary care providers, physicians, physician assistants, managers, administrators, social workers, and other interested healthcare providers.
OBJECTIVES FOR LEARNING OUTCOMES
Learn a few new skills to have more effective clinic visits with people living with chronic pain  ​
Lead a Risk/Benefit discussion for patients on long-term opioids for chronic non-cancer pain​
Identify patients on long-term opioids for non-cancer pain that would benefit from an opioid taper 
Demonstrate best practices for initiating an opioid taper like BRAVO method ​
Practice navigating resistance to a treatment plan and creating a collaborative plan for long-term opioids
Learn skills to avoid treatment inertia around chronic pain conditions ​
Demonstrate effective approaches to Opioid Misuse and Opioid Use Disorders  ​
Intro to Buprenorphine for chronic pain
Practice these skills on live standardized patients in the afternoon session
PROGRAM SCHEDULE | Friday, June 17, 2022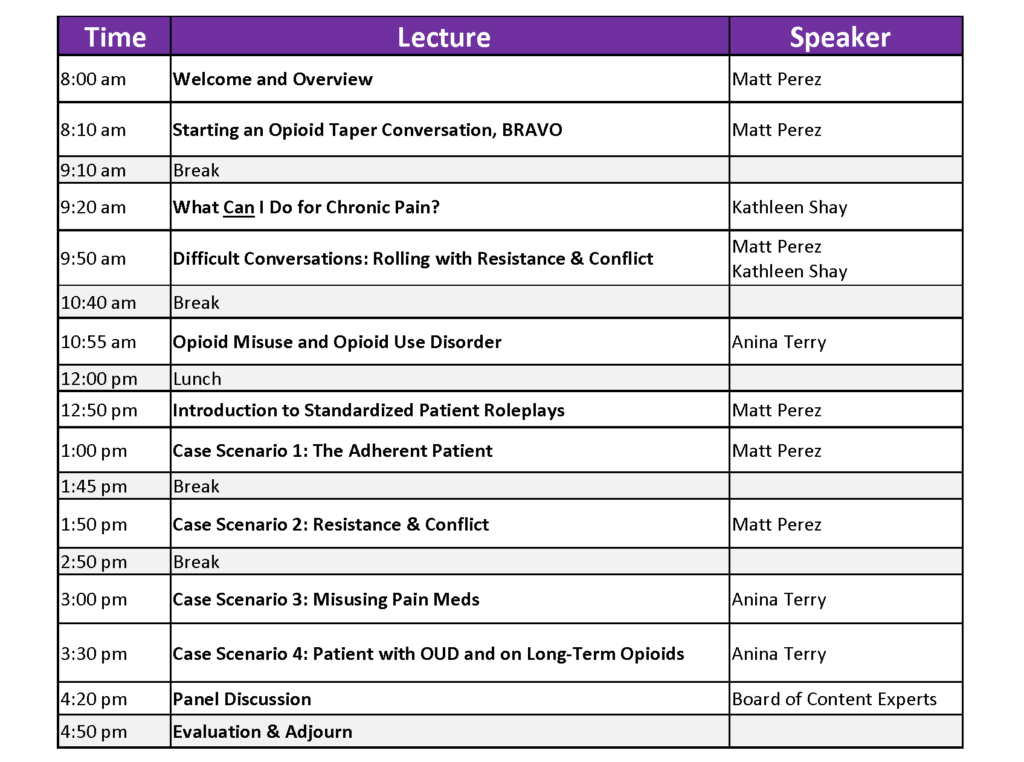 ASAM REGISTRATION | TOUD & REMS | June 16, 2022

We are pleased to offer both the online Treatment of Opioid Use Disorder and a Pain Management and Opioid: Balancing Risks and Benefits training in partnership with the American Society of Addiction Medicine (ASAM) at no additional cost. Space is limited. Registration will be through ASAM and with separate links.
(TOUD) Treatment of Opioid Use Disorder Course
Registration: https://elearning.asam.org/p/TOUDUWN61622
June 16, 2022 | 8:00 am – 12:30 pm | 8.00 Contact Hours (live & asynchronous courses)
TOUD Description: 8-hour, blended course (4-hour on-demand, 4-hour live virtual) provides required education to qualify for the waiver to prescribe buprenorphine in an office-based setting and covers essential information for providers to identify, assess, diagnose, and manage patients with opioid use disorder (OUD). 
(REMS) Pain Management and Opioids: Mitigating Risks and Benefits
Registration: https://elearning.asam.org/products/pain-management-and-opioids-mitigating-risks-uw-cne-thursday-june-16-2022
June 16, 2022 | 1:00 pm – 5:00 pm | 4.00 Contact Hours
REMS Description: The course Pain Management and Opioids: Mitigating Risks (REMS) course is a 4-hour course designed to educate ER/LA opioid prescribers about the necessary context for safe opioid prescribing. This newly updated comprehensive course discusses the opioid overdose death epidemic, biopsychosocial aspects of pain and addiction, and clinical guidelines on the treatment of chronic pain. This program meets many states' requirements for opioid education and is fully compliant with the Opioid Analgesic Risk Evaluation and Mitigation Strategy (REMS) education requirement ("Blue Print"), issued by the U.S. Food & Drug Administration in September 2018.