UW School of Nursing
June 3, 2022
Exhibit Opportunity | The Challenges of Pain 2022: Chronic Pain Workshop
Current Status

Not Enrolled

Get Started
Format: Virtual Exhibit Booth
Date: Friday | June 17, 2022
$599/$199 Nonprofit Agency
Target Audience
For healthcare professionals including staff nurses, clinical nurse leaders, clinical nurse specialists, nurse practitioners, nurse educators, managers, administrators, social workers and other interested healthcare providers.
Conference Description
Pain causes extensive suffering, disability and expenditure of scarce healthcare resources. This conference focuses on the challenge of pain management for healthcare professionals across the healthcare continuum. Regional and national pain specialists present evidence-based strategies for assessing and managing pain in all care settings. Teaching methods include lecture, discussion, case studies and inter-professional dialogue.
Program Schedule | Friday, June 17, 2022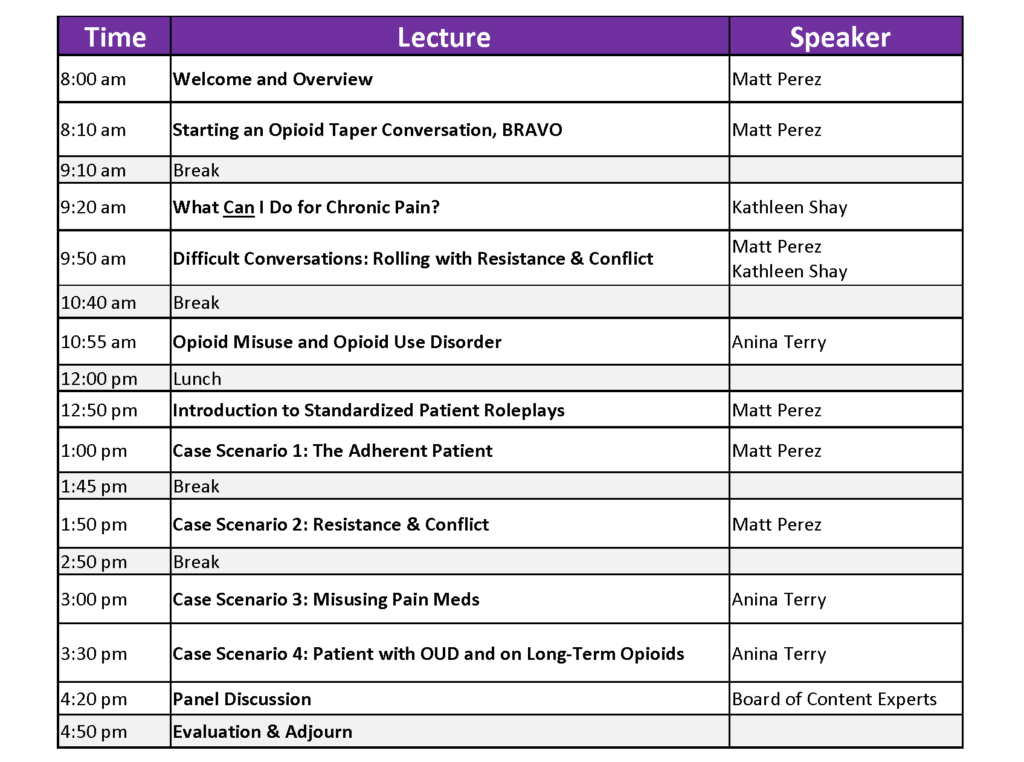 Exhibiting Format
This conference is remote due to COVID restrictions. All attendees will be able to sign on to view content at their own pace and agenda. The exhibitions will happen asynchronously allowing your content to be available for six months after the conference date. To access exhibitions, attendees will click the "exhibitors" link in their online conference portal, to then be launched into an all exhibitor content in a separate tab. How will attendees know about exhibitors? The exhibitor portal will be available alongside their handouts and mandatory evaluation A mention of exhibitors will be made during the welcome speech Exhibitors will be featured in all attendee packets along with speaker info In your exhibiting space you can provide:
Logo image
a 120-word description of your company/product
Resources ‐ Up to 5 links
Photos or Graphics (the more options the better!)
Quote or testimony
Link to video (2-3 minutes) highlighting products and/or services (company hosted)
Link to website
Contact information and/or Calendly link
Process to Getting a Virtual Booth
Register and pay online
Send your content: You can decide what content you would like to include in your booth. The only content we absolutely require is a logo image and 120 word description of your company/product. Outside of that, it is up to you how much or how little you would like to show. When you do have your content together please send it directly to Pascale Kellens at pkelle@uw.edu. All content must be received no later than one week prior to the conference launch date Building of the booth: Due to our technology, UWCNE  has to build out your booth for you. Your booth will be built in a program called Articulate Rise. Your booth will be completed for your review 2-4 days prior to the conference.
Booth review: Once your booth is built, UWCNE will send a link (4-2 days prior to the event) to watch your virtual booth and ask for adaptations if needed. If you fail to submit your materials 7 days prior to the conference, we cannot guarantee a booth review.
Conference day: On the day of the conference attendees can view your booth alongside their speaker packets, evaluations and certificates!
Questions? Please contact Pascale at pkelle@uw.edu