UW School of Nursing
April 13, 2022
Pediatric Drug Therapy 2021 | Polycystic Ovary Syndrome in Adolescents
Current Status

Not Enrolled

Get Started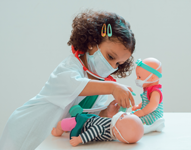 Pediatric Drug Therapy 2021
Polycystic Ovary Syndrome in Adolescents
On-Demand Program
Speaker
Sarah Golub, MD MPH
Assistant Professor of Pediatrics, School of Medicine, University of Washington; Clinician Educator, Division of Adolescent Medicine, Seattle Children's Hospital
Target Audience
For pediatric nurse practitioners, family nurse practitioners, physician assistants, clinical nurse specialists, nurses, respiratory therapists, pharmacists and other interested healthcare professionals.
Objectives for Learning Outcomes
At the conclusion of this activity, participants will be better able to:
Review diagnostic criteria for PCOS in adolescents.
Discuss goals of treatment and options for management.
Highlight special considerations unique to adolescents.