UW School of Nursing
April 9, 2022
Suicide Prevention Training
Current Status

Not Enrolled

Get Started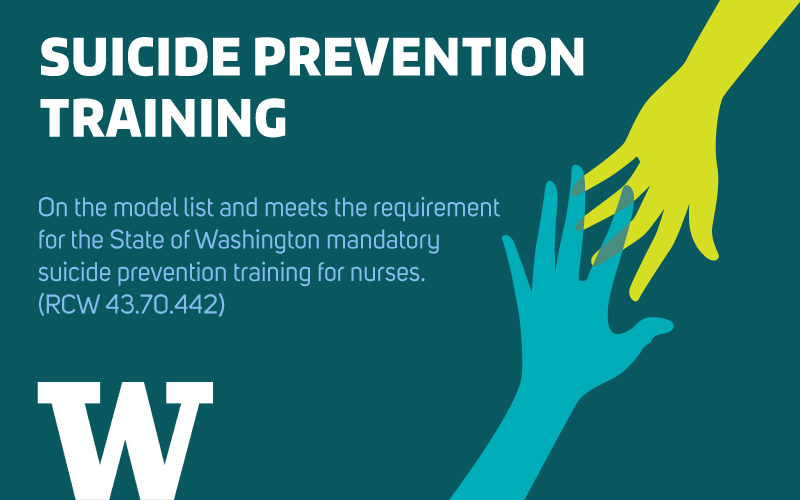 Suicide Prevention Training
On-Demand Program
Course Description
This on-demand program meets the requirement for the State of Washington mandatory suicide prevention training for nurses (RCW 43.70.442) and has been approved by the Washington State Department of Health. Whether or not the focus of this required training is immediately applicable to your role in nursing, we hope you will learn about strategies and resources you can share with people in crisis.
Topics
Introduction (Perspective, Attitudes, Context)
Assessment (Risk Factors, Protective Factors, Sample Assessment Questions, Risk Assessment for Safety Planning)
Management and Treatment (The Safety Plan, Short and Long Term Interventions)
Resources
Additional Topics (Role of Nurses, Self-Injury, Cultural Considerations, Postvention)
Target Audience
Registered nurses, advanced nurse practitioners, community and public health nurses, nurse educators, licensed practical nurses, physicians, physician assistants, occupational therapists, social workers, counselors, community members and other interested healthcare professionals.
Objectives for Learning Outcomes
At the conclusion of the course, participants will be better able to:
Describe risk and protective factors influencing suicide risk.
Discuss facilitators and barriers to implementing suicide prevention measures.
Demonstrate suicide risk assessment, treatment and management skills.
Apply suicide risk assessment, treatment and management strategies to case scenarios.
Speakers
Elaine Walsh, PHD, RN, PMHCNS-BC
Dr. Walsh is an Associate Professor and Vice Chair for Education in the Department of Psychosocial and Community Health at the University of Washington School of Nursing. She is an ANCC Certified Child and Adolescent Psychiatric and Mental Health Clinical Nurse Specialist. She obtained her Doctor of Philosophy in Nursing from the University of Washington in 1999. Her research involves suicide prevention interventions and evaluation of school- and community-based prevention programs. Dr. Walsh has extensive experience working with youth and families in hospital, school, and community settings. As a research scientist and project director with the Reconnecting Youth Prevention Research Program at the University of Washington, Dr. Walsh coordinated implementation and evaluation of programs designed to prevent school dropout, suicide, and drug abuse. This involved working with students, parents, teachers, school and district administrators, and community members to implement programs for high-risk youth. She is an affiliate faculty member and school liaison with Forefront: Innovations in Suicide prevention and a Nurse Scientist focusing on resiliency at Seattle Children's Hospital.
Jennifer Barron, MBA, MA, BSW
Jennifer is the Community Education Manager at Coordinated Care, leading the effort to roll out Zero Suicide throughout the organization. Prior to this, Jennifer worked at Forefront Suicide Prevention as the Training and Community Director for the State of Washington. She helped to develop the suicide prevention training for medical professionals, titled "All Patients Safe." Long ago, she was the Deputy Director of the Youth Suicide Prevention Program, creating grassroots programs across the state. Jennifer believes that suicide prevention is everyone's business, and that is why she is such a strong advocate for training.