UW School of Nursing
July 24, 2022
Advanced Practice in Primary Care 2022 | Day 1 and 2
Current Status

Not Enrolled

Get Started

FORMAT: In-person Conference
DATE: Thursday-Friday | October 27-28, 2022
Quick Links
CONFERENCE DESCRIPTION
APPC 2022 offers healthcare providers an opportunity to validate and enhance clinical competencies, acquire new assessments and examine critical issues in health care at the state and national levels. Learn about new products, services, and pharmacotherapeutic agents.
The program includes experts in all tracks. Different sessions allow participants to design their own educational tracks in the areas of adolescent, adult, family, geriatric, pediatric, psychosocial, and sexual and reproductive health care. Teaching methods include lectures, case studies, discussions, and poster sessions.
Benefits of attending this conference:
Learn from experts in your field
Have the opportunity to explore an extensive variety of topics
Connect with exhibitors
Network with your peers to reflect and reconnect
OBJECTIVES FOR LEARNING OUTCOMES
Upon completion of this conference, participants will be better able to:
Apply the current evidence-based information about the assessment and management of common health problems seen in primary and specialty settings.
Apply the current evidence-based pharmacotherapeutic information related to clinical practice.
Integrate regional and national trends in health policy, promotion, and prevention into the provision of health care.
HANDOUTS
Make sure that you're logged in to your account
Scroll all the way down to: "Course Content"
ACCREDITATION
Professional Credit
Nurses, nurse practitioners, pediatric nurse practitioners, psychologists, social workers, respiratory therapists, and school nurses.
School Nurse
UWCNE is an approved clock hour provider in Washington State. This offering meets the requirements for 17.0 clock hours. If you would like a clock hour certificate, please email cne@uw.edu or ask a registration manager at the conference registration desk.
POSTER ABSTRACTS INVITED
Promoting Improvement in Healthcare Delivery, Education, Research, and Policy
Have you created a practice improvement project or developed an innovative educational strategy, clinical program, or research project that highlights improvements in health care delivery, education, research, or policy? We invite you to submit a poster abstract.
Registration Discount Price: $450 Both days
Poster Presentation Benefits:
Strengthen your resume
Some employers will pay your registration fees if you present a poster
Communicate research or program findings to enhance the practice of others
Network with providers who share your interests
Discuss practical strategies for healthcare delivery
KEYNOTE SPEAKER
Reaching Forward, Reaching Back: Storytelling, Memory, and the Power of Witnessing
Alic G. Shook, PhD, RN
Assistant Professor at the Seattle University; Co-Coordinator, Public Health Internship (PHI)
Alic Shook, RN, Ph.D. is an Assistant Professor in the College of Nursing and a Robert Wood Johnson Foundation Future of Nursing Scholar.  He is a pediatric and population health nurse with experience in pediatric emergency medicine, pediatric oncology/hematology, pediatric intensive care, HIV services, and research. Most recently his research has focused on the healthcare-seeking experiences of transgender youth under 18 and how the intersection of age, race, gender, class, and transphobia influences their abilities to access a range of health and social services.  He is currently working on the development of a sexual health curriculum for transgender and non-binary youth with collaborators at Seattle Children's Hospital and the University of Washington and a qualitative study aimed at furthering the conceptual understanding of how stigma impacts individuals living with sickle cell disease, as well as how stigma power operates within nursing practice.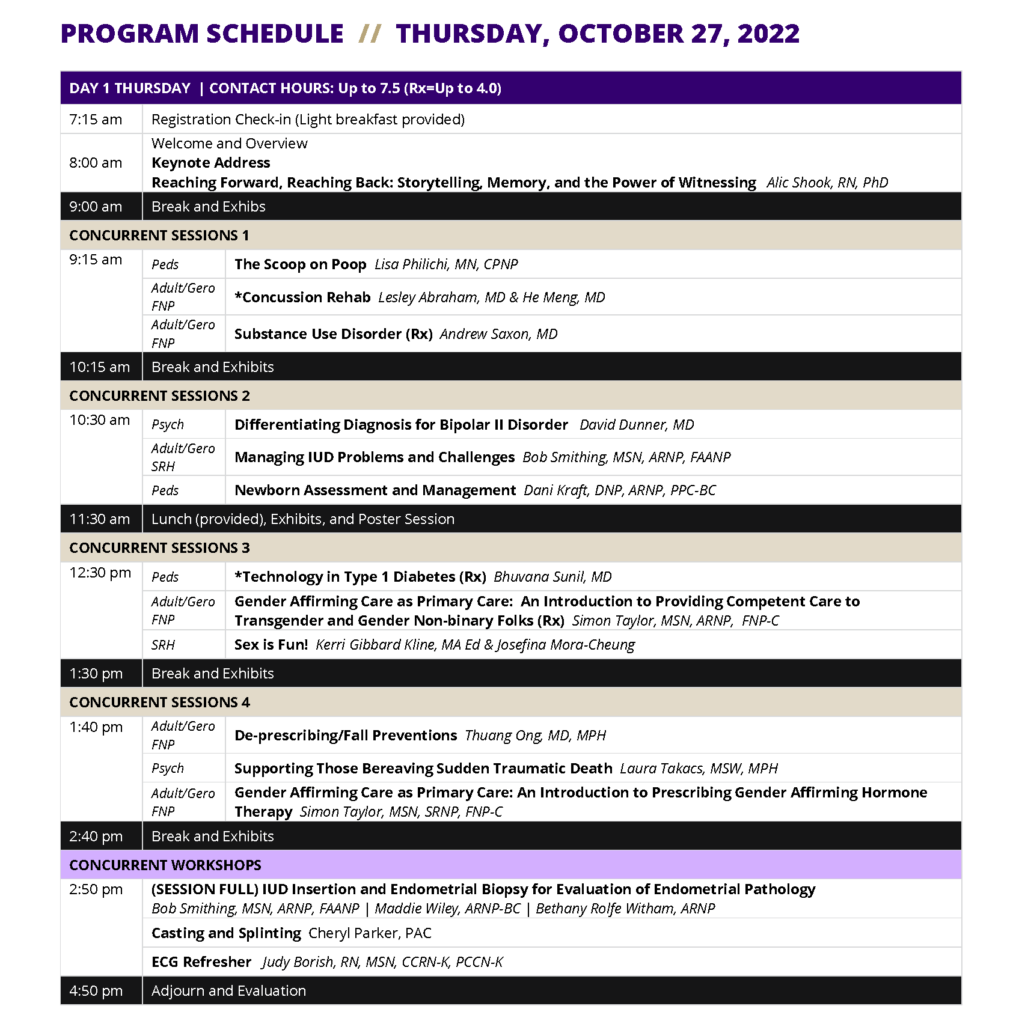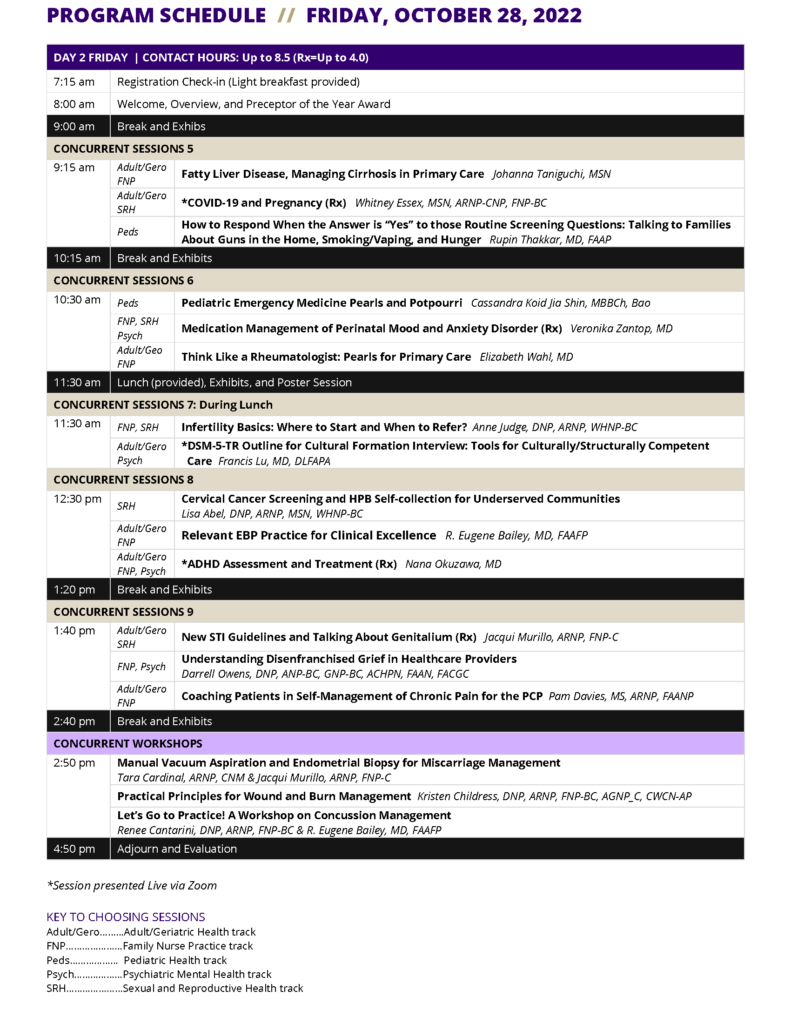 DISCOUNT RATES
Discount rates below are applicable for 2day registrations. Please email cne@uw.edu for the coupon code.
Students and retirees = $300
Poster presenters = $450
UW SoN faculty & staff = $300
HOTEL
For those in need of accommodation, we have partnered with Marriott Waterfrontto get a special rate for the duration of the Conference. The Reservation Link to use for making a reservation or you can call (800) 228-9290 and ask for the"Advanced Practice in Primary Care Room Block" to reserve a room.  From Wed, Oct 26 to Friday, Oct 28th.
Last day to book: Wednesday OCT 5th, 2022
Book Your Group/Corporate Rate | Marriott International
REFUND POLICY
If you register but cannot attend, you must submit a written request to UWCNE by email at cne@uw.edu.
More than 2 months before the event = $25 admin fee
30 days before the event = 30% cancellation fee
7 days before the event = 50% cancellation fee
No show = No refund
Day 1 & 2 Activities